MEET THE NEW XE S
A true driver's car, the rear wheel drive Jaguar XE redefines the concept of the sports saloon thanks to its advanced lightweight construction, streamlined styling, luxurious interior, and outstanding ride and handling.
RESPONSIVE AND REFINED
The pinnacle of the range, XE S rewards drivers with the responsiveness and refinement of its supercharged 3.0 litre V6. Generating 340PS and 450Nm of torque, this high-revving engine is linked to an 8-speed automatic transmission with paddle shift controls, giving the driver immediate access to the vehicle's incredible reserves of power. Accelerating to 0-60mph in just 4.9 seconds, XE S has an electronically limited maximum speed of 155mph.

DESIGN WITHOUT COMPROMISE
Jaguar has a rich history of producing stunning, seductive, aerodynamically efficient cars. The new XE continues the tradition of uncompromised form and function.
The XE S model's large front air intakes, chrome side vents, discreet rear spoiler and optional 20-inch forged alloy wheels hint at the car's performance potential.

FORM AND FUNCTION ALIGNED
XE S is the stiffest and most aerodynamic Jaguar saloon ever built. Its beautiful, streamlined shape has the lowest drag coefficient of any Jaguar yet (0.26 Cd). It is also the first Jaguar to be equipped with electric power steering, tuned for maximum responsiveness and low energy consumption. The new XE range has the most sophisticated chassis of any vehicle in its class and will set the benchmarks for ride and handling: it is a true driver's car.
ALL-NEW ADVANCED ALUMINIUM ARCHITECTURE
Jaguar is more experienced in the use of aluminium construction than any other vehicle manufacturer. The unrivalled expertise in working with this lightweight material has culminated in the revolutionary body structure of the new XE. It is the first model designed around Jaguar's all-new modular architecture and is the only car in its class to use an aluminium-intensive monocoque.

ALL-NEW ADVANCED ALUMINIUM ARCHITECTURE
"The Jaguar XE body uses over 75 percent aluminium content, which far exceeds any other car in its class. This gives us a body structure with unrivalled low weight: it's light but also immensely strong with extremely high levels of torsional stiffness."
Dr Mark White, Jaguar's Chief Technical Specialist.
ALUMINIUM: THE SECRET BEHIND XE
Designed around our new modular vehicle architecture, capable of delivering a wider range of design demands than ever before, XE is the only car in its class to use an aluminium-intensive monocoque, with lightweight aluminium accounting for 75 percent of the structure.
HIGH TORSIONAL STIFFNESS
RC5754 is a state-of-the-art alloy that helps to deliver extremely high levels of torsional stiffness which gives XE exceptional vehicle dynamics, agile handling and class-leading steering response.
STUNNING DESIGN
Jaguar's new Advanced Aluminium Architecture has opened up a world of opportunities in shaping aluminium. Its beautiful form is the product of 12,000 computational fluid dynamics simulations and more than 4 million hours of processor time.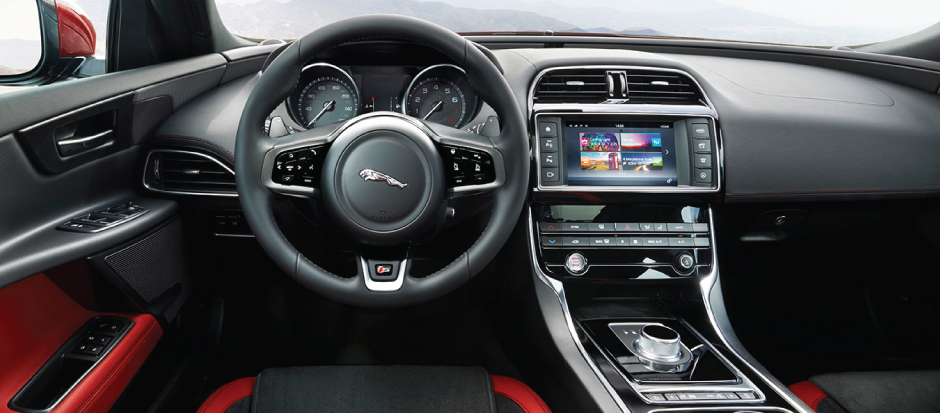 THE BEAUTY WITHIN
The spacious cabin cocoons front seat passengers with a deep centre console which creates a cockpit-like feel. Both the F-TYPE-style dials and the cluster needle sweep on start-up further emphasise the car's sports saloon attributes.
The cabin offers outstanding levels of comfort. Exquisite materials and finishes, combined with traditional Jaguar craftsmanship, make this an interior like nothing else in its class.
XE's all-new InControl infotainment system offers state-of-the-art technology to connect you to the outside world, making every journey a pleasure.
IN-CAR TECHNOLOGIES
XE is packed with a wide range of state-of-the-art technologies designed to keep you connected, keep you in touch and to make every journey a pleasure.
The new XE's InControl infotainment system is designed around an 8-inch Touch-screen. It's clear, intuitive, quick and easy to access and uses voice control plain speech.
The Jaguar InControl Remote allows users of iOS and Android smartphones to connect to the car from wherever they are and control a range of vehicle functions, including climate control, locking or unlocking the doors, or even starting the engine.
Jaguar InControl Apps allows users to seamlessly access smartphone apps through the vehicle's Touch-screen, making it easy to do everything from make a conference call, find a parking space or book a hotel room.
And you'll never be without the internet again as the XE also functions as a Wi-Fi hotspot, enabling multiple devices to connect online where coverage is available.
There's also an array of advanced driver assistance systems available in the new XE, including the laser Head-Up Display. An industry-first that projects sharp, high-contrast colour images onto the windscreen.

ACTIVE SAFETY
Jaguar is one of the first manufacturers in the segment to use stereo camera technology. This state-of-the-art sensor is the 'eyes' of XE's autonomous emergency braking system, providing highly accurate measurements of speed and distance of objects ahead, and can initiate full braking to avoid or mitigate a collision.
The stereo camera performs traffic sign recognition and lane departure warning functions too. XE also offers systems such as adaptive cruise control, closing vehicle sensing, blind spot monitoring, semi-automated parallel and bay parking, and reverse traffic detection.
SMOOTH AND POWERFUL
For customers demanding ultimate performance and an exhilarating engine note XE S shares its supercharged 3.0-litre V6 with the acclaimed F-TYPE.
XE S will be joined by other models powered by highly efficient 2.0-litre, four-cylinder petrol and diesel engines matched to smooth-shifting 6-speed manual and 8-speed automatic transmissions offering an impressive blend of performance, refinement and fuel efficiency with a breadth of capability. The diesels – part of Jaguar's all-new Ingenium engine family – provide exemplary fuel consumption and CO2 emissions from 75mpg and 99g/km*. (*current projection, subject to official tests and certification.)

DRIVING DYNAMICS
Thrilling performance, agile handling and precise, responsive steering. Discover the cutting edge technologies behind XE's outstanding driving dynamics.
WHAT'S DRIVING XE?
XE's lightweight construction and sophisticated chassis technology combine to deliver outstanding driving dynamics with incredible handling in Jaguar's newest sports saloon is nothing short of exhilarating.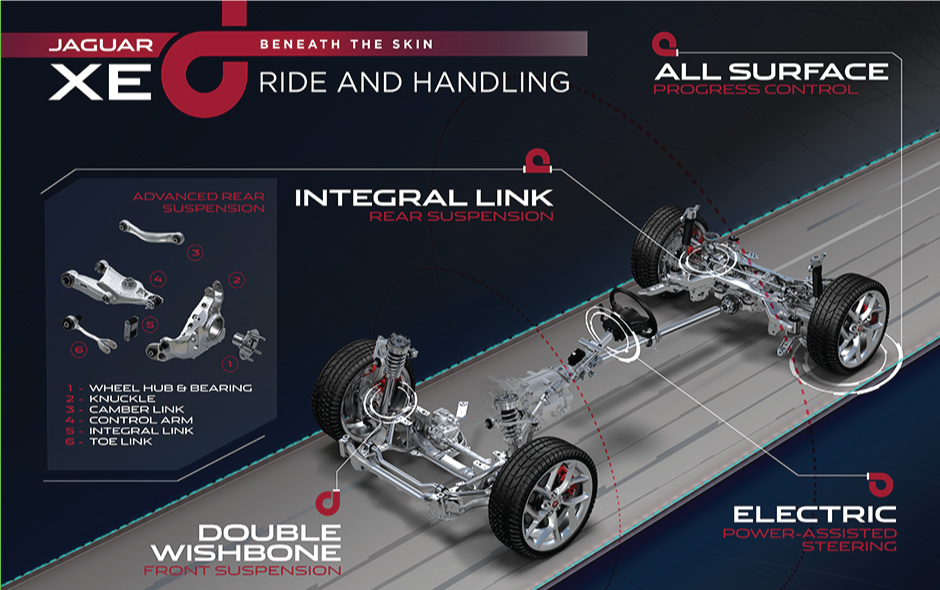 INTEGRAL LINK REAR SUSPENSION
Using sports car technology, XE's integral link suspension delivers significantly uprated performance over conventional multi-link suspension. The integral link delivers sharp response and handling while retaining a refined, luxurious ride.
DOUBLE WISHBONE FRONT SUSPENSION
XE's double wishbone front suspension delivers the highest levels of handling and road holding. Like the rear suspension, many components are made from cast and forged aluminium using exclusive Jaguar engineering technologies.
ELECTRIC POWER ASSISTED STEERING
Jaguar is renowned for its steering feedback and feel. With the latest generation Electric Power Assisted Steering (EPAS), XE takes steering feel to the next level. The system also allows variable steering damping, ease of low-speed manoeuvring and the ability to adapt to Jaguar Drive Control settings. EPAS also enables a range of Active Safety and Driver Aid features.
ALL SURFACE PROGRESS CONTROL
Even with the best traction control, rear-wheel drive cars can struggle to pull away on slippery surfaces. Jaguar has created All Surface Progress Control (ASPC), a completely new feature in its class. Developed from decades of Jaguar Land Rover experience in off-road traction systems, ASPC will electronically sense tiny amounts of slip and almost instantly gain traction.

SUSTAINABLE AND AFFORDABLE
The XE is one of the most cost efficient cars in its class, with the range offering one of the most fuel efficient Jaguar cars ever made. As well as exceptional fuel efficiency, the XE's Ingenium diesel engines also achieve a remarkable 21,000 miles or two years between services. From the very beginning, key components were designed to be easily accessible to minimise scheduled maintenance and repair costs. This helps XE in achieving highly competitive insurance group ratings.
REGISTER YOUR INTEREST
Your Details